Best ice creams in Martinique: 5 shops you need to check out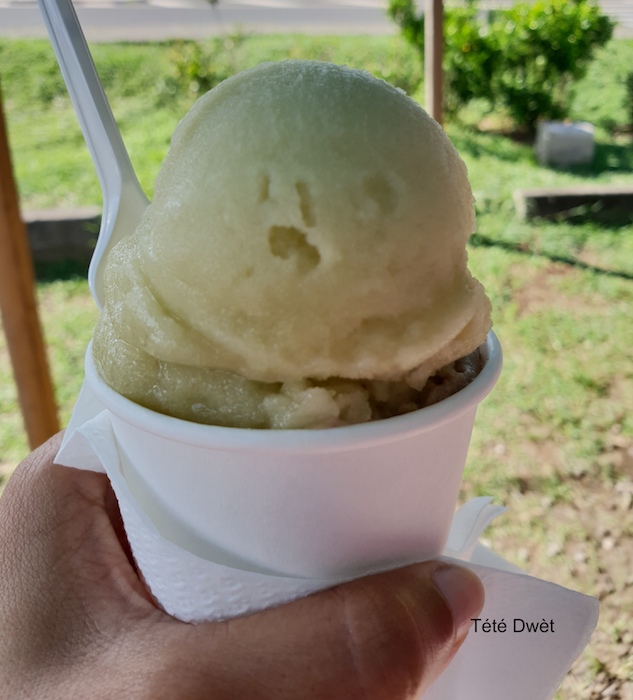 It's always ice cream season in the Caribbean! So if you're in Martinique and you don't know where to go grab a treat: we got you! We have listed 5 ice cream shops in Martinique. All of them use locally-sourced ingredients and artisanal techniques. Are you ready?
Fruity'Boules in Le Robert
This small stand doesn't look like much but visit them on a weekend and you'll see how crowded it gets! Fruity Boules offer a large range of flavors including giraumon (our local pumpkin), avocado, banana or prune de cythère (golden apple). They often experiment with new combinations such as cassava-coconut or ginger-pineapple. Of course, if you're more on the classical side, you can choose a vanilla or chocolate ice cream. You'll be spoilt for choice!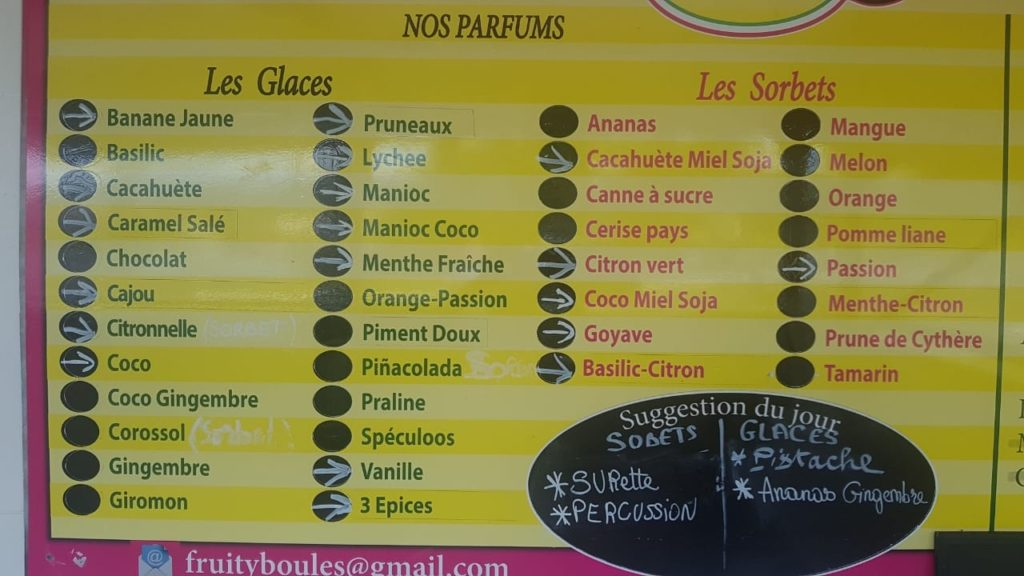 Passion Givrée at Fort-de-France and Schoelcher
The brand is very active on social media! Bénédicte, the founder of Passion Givrée, regularly partners with local brands such as La Tivolienne coffee or Idyllik planteur. New flavors are always in rotation: guava, basil-lemon, passion fruit, Julie mango, nougat-pistache (a local sweet) etc.
The ice creams are free from preservatives and artificial colorings ; sugar is limited. They have two shops: one in Schoelcher ; the other one at rue Garnier-Pagès in Fort-de-France, near the pedestrian street.
Ziouka Glaces in Le Carbet
In the small town of Le Carbet, Ziouka Glaces is a popular location. Clients are usually standing in front of the shop waiting to order. Ziouka has been creating and selling 100% natural products for more than 20 years. It became known with cassava flour ice creams and now flavors include water lemon, roselle or celery-ginger. A perfect stop when visiting the North-Caribbean coast of Martinique.
Z'Arômes in Sainte-Luce and retailers
A former financial advisor, Rudy gave up everything to start his ice cream business with a strong commitment to sustainability. Thus, Z'Arômes containers are glass-made, reusable and returnable. It carries flavors like lemongrass, mandarin-chocolate or west indian cherry. The list of retailers is available on the brand's website.
Excellences Glaces at Le Lamentin
The owner, Pascal, is the only one to hold the title of maître artisan-glacier in Martinique. He creates handcrafted ice creams and 60 flavors are served all year long. You can try flavors like sweet potato jam, old rhum, star anise or atoumo (a local plant reputed to heal any ill).
We haven't mentioned the coconut sorbets or sinobols (snow balls) vendors near the beaches but they are always a good idea!a