5 pastry shops you must try in Fort-de-France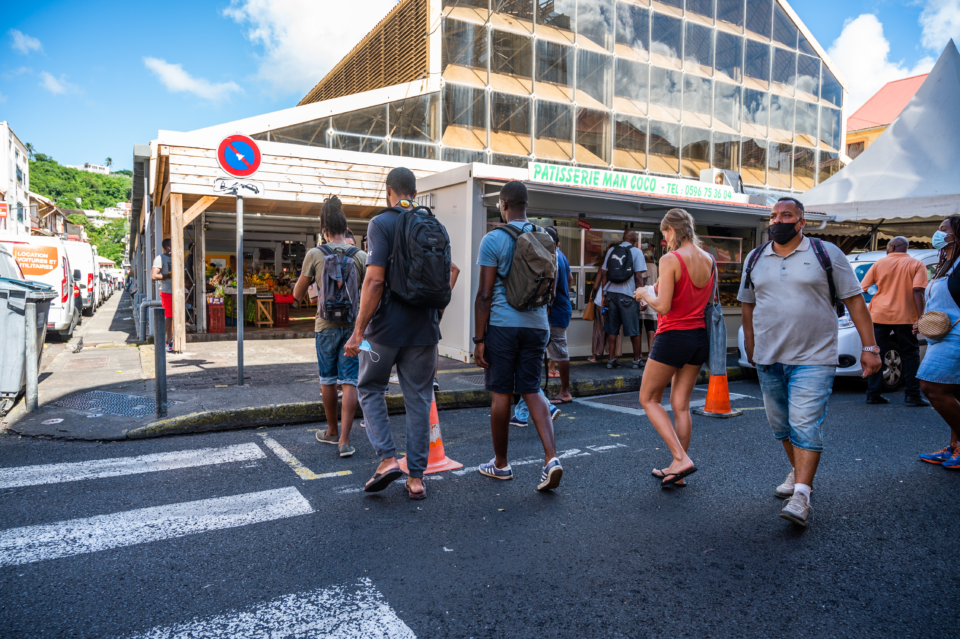 Whether it's shopping, (re)discovering the architecture and monuments of the capital or finding the latest murals: walking around Fort-de-France is a real treat. Sadly, few people know how many good pastry shops there are in the city centre. And they are missing out! 

We have chosen to reveal our selection of 5 must-try pastry shops when visiting downtown Fort-de-France. Stop in to one of these for breakfast, a snack or to pick up a picnic! 
Man Coco: the best value in Fort-de-France
46 Rue Isambert, Fort-de-France
Man Coco is both a beautiful story and a piece of Foyalese folklore.
For more than 50 years, this kiosk at the entrance of the Grand Marché in Fort-de-France has been attracting passers-by with its windows full of goodies. Sadly you can no longer hear the eponymous Man Coco baiting customers with her famous Creole cry "Manmay la mwen pri, mwen mélé. Vini wè Man Coco, vini wey…" (come to Man Coco, come see her!). But her children continue to offer the recipes that made her famous at very affordable prices.
The flute is 0,55 €; the salted biscuits are 0,70 €; the 'sacristain' (a sweet, pastry twist) is 1 €, as are the cream cornet, the coconut/guava tart or the 'amour caché' almond cake. We are pleased to say inflation has not arrived here and Man Coco continues its mission of keeping prices low to allow a little sweetness for everyone!
Prepare for long queues. They are a testament to the reputation and quality of this place.
La Pâtisserie Suréna: the oldest in Martinique
83 Rue Victor Hugo, Fort-de-France
Founded in 1906, Surena is a real institution in Martinique and still considered one of the best shops on the island for traditional pastries. 
The century-old shop is the guardian of Martinique's flagship specialities such as 'le Robinson' (sweet cake with banana, coconut or guava jam), 'le pain doux' (a simple spiced, sweet bread), 'les bonbons chouval' (horse-shaped biscuits) or 'le pudding' (bread pudding).
It has also managed to reinvent itself by launching sweet patties with new flavours such as 'apricot-pays' or pumpkin. They have even created 'Le 1906', a cake made with sweet potato and coconut jam that pays tribute to the shop's great age.
The little extra: the Suréna patisserie delivers throughout Martinique but also in France. A shop has even recently opened in the 20th district of Paris. 
The little extra-extra: the establishment is part of the gourmet tours offered by Tété Dwèt! This is an opportunity to learn more about its history and to taste its specialities.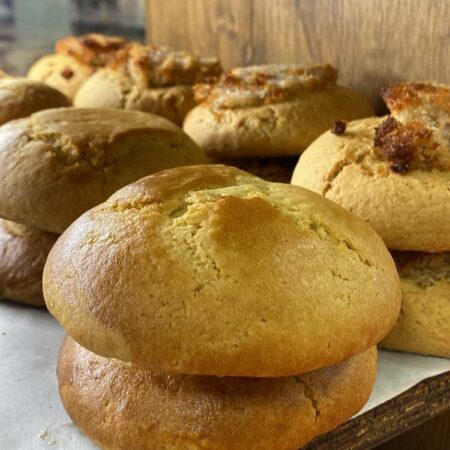 La Pâtisserie du Boulevard : the most eclectic downtown
23 Boulevard Général de Gaulle, Fort-de-France
Be prepared for long queues at this other well known address. You'll see customers leaving with the brand's signature pink wrappers.
La Pâtisserie du Boulevard combines traditional creations with more modern products. You will be spoilt for choice with 'brioche pains au chocolat' and 'pain au beurre', as well as the 'Magnum', a unique creation based on a peanut brittle, soft homemade praline biscuit, Martinique vanilla mousse and Magnum icing.
Au Lèche-Doigts: the most popular in Terres Sainville
80, avenue Jean Jaurès, Terres Sainville, Fort-de-France
The Lèche-Doigts has two outlets in Fort-de-France: one in Montgérald, the other in Terres Sainville. It is the latter that we will focus on for the purposes of this article. This emblematic address is in the heart of a popular district. You will find fruit tarts, cream cones and mille-feuilles.
People also come to the Lèche-Doigts for special orders of 'pain au beurre' or cakes for special occasions.
La Pâtisserie Héry: the most creative
136 rue Victor Hugo, Fort-de-France
Created by a duo of young and dynamic Martiniqueans, the Héry patisserie does not yet have a physical shop, but we are waiting for it! The promise is simple: fine creations with local flavours.
The pastry chef, Antoine-Hery Charles-Alfred, is a graduate of the Ferrandi school. He concocts his own unique recipes such as 'Mazurka' which combines roasted pineapple, passionfruit cream and lime zest, 'Communion' which plays on the nostalgia of 'first communion chocolate', a typical Martinique speciality, or 'Crusoe', which revisits the traditional 'Robinson' in a more refined version.
If you can't wait for the official opening, they are taking orders.
Bonus - Thony's Pastry: the new kid on the block
24, rue Lamartine, Fort-de-France
Only just opened in July 2022, it's not yet a Martinique favourite but it is a real gamble for the founder who chose to set up his shop in the city centre.
With this article, we are hoping to give it a boost! We went to give it a test and tried 'pommes-cannelles', pépitos, pains aux raisins and 'pains aux saucisses'.
But the real speciality of Thony's Pastry? The brioche!